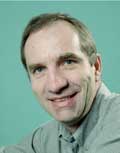 Dr. Richard Farndale
University of Cambridge
Dr. Richard Farndale's webpage
Collagen receptors and other collagen-binding proteins
This work relates to thrombotic disease, stroke and heart disease, conditions identified within the group of those where the most striking disparities are found.
My work centers on the investigation of interactions of the fibrous collagens with their receptors and other proteins. Focus was initially on the platelet collagen receptors, integrin alpha2beta1 and glycoprotein VI. This area has now been extended to include the indirect interaction between collagens and platelet glycoprotein Ib mediated by von Willebrand factor. The synthesis iof the Collagen Toolkits, libraries of peptides embracing the whole of the triple-helical domain of collagens II and III has enabled us to address the interaction with any collagen-binding species, including novel receptors, (DDRS and LAIRs) and other well-establsihed collagen-binding proteins such as fibronectin and SPARC.
We study the signaling pathways activated in human platelets by collagens of the blood vessel wall. These processes are fundamental to thrombosis and haemostasis, and our aim is to identify amino acid sequences in the collagens which recognize platelet receptors, to identify platelet receptors for collagen, and to understand the signaling consequences of their interaction. Again, this approach can be applied to other receptors in different cellular settings.
The project will form a part of the above program, and will be concerned with identifying signaling properties of collagen-derived synthetic peptides. This will allow us to locate platelet-activatory motifs with the collagen sequence. Measurements to be made may include the activation of phospholipase A2, of protein kinase C, and of tyrosine kinases. The work will involve SDS-PAGE, Western blotting and possibly immunoprecipitation. The laboratory is well-established: usually there will be 2 Ph.D. students and 6 post-doc researchers in the group, with other students working on different topics sharing facilities with us.