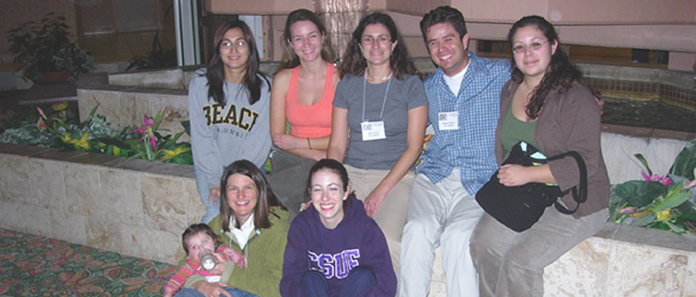 Above: Zacherl Lab attending the Western Society of Naturalists meeting in Monterey, CA in 2005. Top (from L to R): Diana Lloyd, Sara Koch, Maria Polson, Mike Navarro, Melissa Romero. Bottom (from L to R): Danielle Zacherl and Amelie, Erin Seale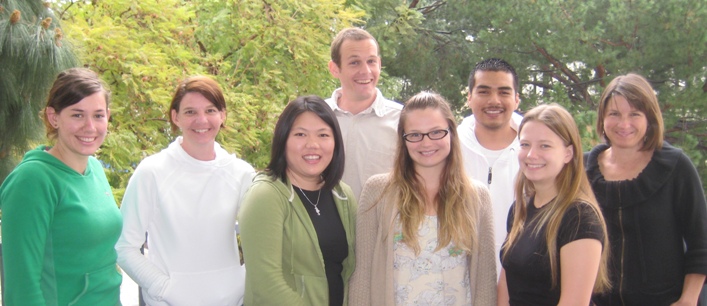 Welcome to the Zacherl Lab web pages!
The Zacherl lab group's research interests include all aspects of marine ecology particularly focused on the youngest life stages of marine organisms including settlement and recruitment dynamics, larval behavior, effects of oceanography on larval distributions and dispersal trajectories, effects of larval dispersal on population persistence and population connectivity. The Zacherl lab is set up to support intertidal, subtidal and estuarine research programs. Because of the collaborative nature of our research, undergraduate and graduate students have opportunities to interact with faculty and graduate students at UCSB and UCD, as well as at other institutions. Click on the 'People' links (above left) and read below for more detail about on-going projects.
In our most current research, we are interested in determining the extent of connectivity among marine populations by tracking larvae through their dispersal phase. We use calcified structures such as otoliths, statoliths (see Fig. 1) and shells in marine larvae as natural tags useful for reconstructing dispersal trajectories. We analyze element incorporation (e.g., Ba, Sr, Mg, Pb, Mn, Zn, Ce) into these structures using inductively coupled plasma mass spectrometry (ICP-MS). We have been validating the use of these structures through culturing experiments that examine which factors influence element incorporation rates into hard parts. We are also validating this technique in the field by examining the extent of temporal and spatial variation in the chemistry of these structures in larvae developing at different locations. We will continue the validation work and use this natural tag to examine patterns of dispersal in a variety of marine species.
<![if !supportLineBreakNewLine]>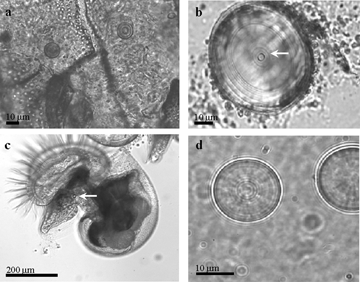 <![endif]>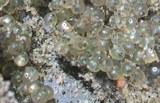 Figure 1. Statoliths from larvae and recent recruits of two species of gastropods. (a) Pair of larval Concholepas concholepas statoliths visible through fragments of larval shell. (b) Statolith in recently settled C. concholepas individual. (c) Near-hatch larva of Kelletia kelletii with statolith visible. (d) Statolith from a near-hatch larva of K. kelletii with possible daily increments. In (b) the arrow indicates a potential "hatch" mark measuring 11.40 ± 0.24 microns (mean ± 1 SE, n = 10) in diameter. In (c) the arrow indicates statolith.
The Zacherl lab group currently examines the ecology and dispersal patterns of larvae of these species:
1. California Grunion, Leuresthes tenuis.
2. Kellet's whelk, Kelletia kelletii. Kellet's whelk is a common predatory gastropod in southern California. In the past few decades, this species extended its range from its historic northern limit at Point Conception to its present limit in Monterey Bay. Our demographic studies indicate that the recently established populations north of Point Conception exhibit very low densities and sometimes exhibit sporadic recruitment pulses. These features may be due to limits on northward dispersal of larvae by prevailing current conditions during K. kelletii's reproductive season. In our continuing work with K. kelletii, we will examine the relative importance of dispersal in determining patterns in population structure across the range, and in the relative importance of linkages among populations in maintaining populations at the edges of the range. Most recently, we have explored larval diel vertical migration behaviors (DVM) and are beginning to identify larval distributions in the field. We hope to investigate the dispersal consequences of DVM using modeling approaches.
3. The Olympia oyster, Ostrea lurida. This native oyster species is distributed throughout estuaries along the entire West Coast of the United states. We are the only group in southern California currently studying their recruitment dynamics and population structure. Since their larvae are brooded for a period of time before entering into the pelagic environment, they can 'record' chemical information about their source estuary in their prodissoconchs and, therefore, represent a good target organism for examining among-estuary exchange using natural tagging approaches. We are planning an ambitious study to examine which factors, including larval supply, settlement, recruitment, growth and mortality, might influence population persistence of the Olympia oyster within Newport Bay, CA.
We have ongoing and fruitful collaborations with several fine lab groups because our natural calcified tagging research requires the combined efforts of many experts. Also, we are in the midst of completing a direct comparison of our natural calcified tagging approach with genetic approaches for quantifying exchange of larvae among populations. Past and recent collaborators include Crow White, Steve Gaines, Bob Warner, Mike Sheehy, Georges Paradis (all at University of California, Santa Barbara), Steven Morgan (University of California, Davis), Rob Toonen (University of Hawaii), Stephen Swearer (University of Melbourne) and Doug Eernisse (California State University Fullerton). Soon, we hope to join forces with oceanographers and modelers to explore the dispersal consequences of larval behavior.
Website last updated March 04, 2009