Current Location: Home > Facilities > Greenhouse > Amorphophallus > Moving to the Arboretum
Moving to the Arboretum
On 6 June 2000
Other places to go: [ Frequently Asked Questions (FAQs) | Other sites ]
You are welcome to use these images for non-commercial, educational purposes only. They may also be used freely by the printed media (television, newspapers, magazines, web). If you do use any of our material, we would appreciate a copy of what you produce. They may not be included within any kind of a commercial package (such as a clip art package).
For information regarding commercial use, contact Edward Read or Bob Allen.
---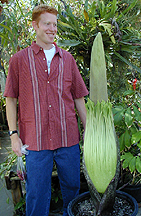 Biology Student, Ed Read (6'4" tall), with Titan Arum in the Greenhouse hours before it was moved to the Arboretum for public display.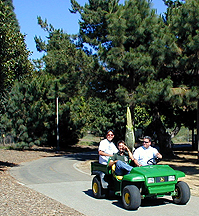 Loaded it up on the cart and drove very slowly through campus to the Arboretum. From left to right: Leo Song, Chris Barnhill, & Greg Dyment.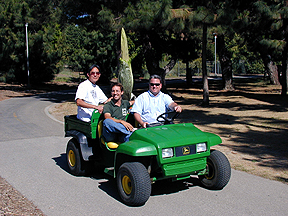 Same, a closer view.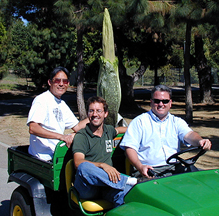 Same, still a closer view. On their way to the Arboretum, lots of people asked about the plant.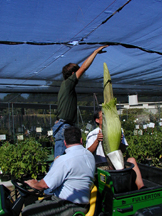 The plant was so tall when it was on the cart that Chris Barnhill had to hold up the shade cloth while Greg slowly backed the cart into the shaded area.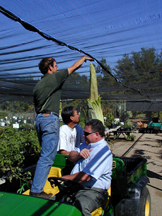 Still holding up the shade cloth.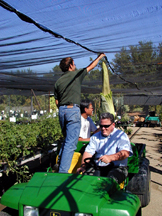 Still holding up the shade cloth. Good thing they didn't have to drive very far.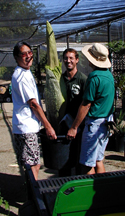 Lifting the plant from the cart. From left, Leo Song, Chris Barnhill, and Glen Williams.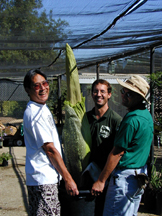 "Hold it just a little while longer while I take more photos."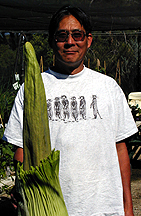 Proud Papa Leo Song and his baby, resting comfortably at the Arboretum.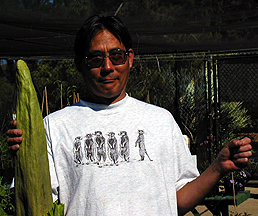 Leo imitates the famous painting, American Gothic by Grant Wood. Too bad we couldn't find a pitchfork for him to hold.
---
Revised 01, June 2006.